The venue: Fokker Terminal, The Hague
Housing a 2200 square metre aircrafthangar
Housing a 2200 square metre aircrafthangar, nine metres high and with 35 metre wide steel doors, the heart of the characteristic Fokker Terminal, with its striking combination of steel, glass and concrete floors, has a beautiful, industrial feel to it. Constructed in 1959, the building was formerly used by the school for aircraft engineering and turned into an event venue several years ago.
The main area can be used for events for 100 to 1,000 visitors.
The main area can be used for events for 100 to 1,000 visitors. Adjacent are another 17 former class-rooms, ideal for workshops or group activities. These break out rooms are right next to the main hall, this makes it very convenient and easy to navigate. The adaptability of the hangar and its characteristic appearance, the terminal is also ideally located just on the outskirts of The Hague.
Get your ticket(s) now!
The 2019 edition of T3CON will take place in The Hague, a growing digital and IT hub in the Netherlands. Known as the 'International City of Peace and Justice' it houses the second-largest United Nations headquarters and is home to the Dutch Royal Family, parliament & government and many international companies.
The Hague offers a wide range of accommodation options. Getting to The Hague is convenient with travel connections to two international airports and Europe's high-speed railway systems. Excellent public transportation system makes it easy to get around the city as well.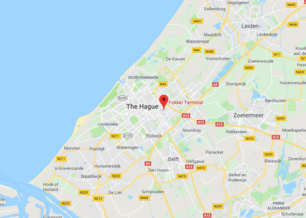 Fokker Terminal
Binckhorstlaan 249
2516 BB The Hague
+31 (0)70 262 90 66
---